ITALDIBIPACK FOR HEALTH
THE CONTRIBUTION OF ITALDIBIPACK TO FACE THE COVID 19 PANDEMIC
Italdibipack, always at the front line in the packaging sector, was the first Company in Italy to set automatic flowpack machines for the packing of face masks in the fight against Covid-19.
Italdibipack packaging machines wrap and protect any type of product, from its production, to its shipping and storage.
During the first period of the Covid-19 pandemic, face masks represented the only means of protection and fight against the virus. Doctors and health workers proved themselves to be true heroes, by working in exhausting conditions, sometimes even without face masks because they could not be found or delivered. In such unprecedented conditions, Italdibipack focused its efforts to support the Italian Civil protection organization and all its Customers: "DIBIFLOW", the Italdibipack automatic horizontal flowpack machines, were specifically set for packing all the different types of face masks as quickly as possible, contributing to face the extraordinary needs caused by the virus.
Italdibipack response to such unprecedented healthcare crisis was extraordinary!
---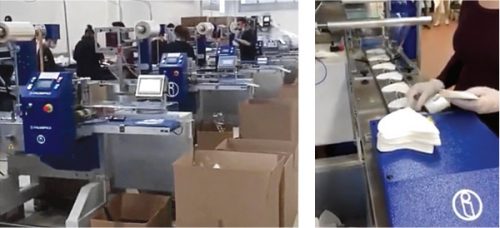 ---
"Italdibipack packaging machines proved to be essential to meet the Italian Civil protection organization need to pack face masks, we are so proud of our contribution!" said Luciano Butturini, Italdibipack Chairman, who always loved challenges.
45 years ago, Luciano Butturini launched alone the first simplified heat-shrinking wrapping system (DIBIPACK), and then the turntable wrapping machines (ECOSPIR) and the pallet wrapping robots (LEONARDO), leading to a revolution in the packaging systems. Over the years, Italdibipack has acquired exclusive know-how and unequalled experience, which are at the base of its innovative packaging solutions and consolidate the Italdibipack Group international leadership in the Flowpack packaging market, too. According to Luciano Butturini, the ongoing generational turnover of the Company leaders is a great opportunity to rethink and innovate projects and strategies, in an historic period when people always travel less, while ideas can fly.
---

---
Discover how DIBIFLOW 500 can wrap face masks